Our diabetes teams provide support to adults with diabetes in a variety of community locations, and in the homes of housebound patients.
Our teams help patients control their diabetes and reduce the risk of short and long term complications by providing patients with the skills, knowledge and confidence to self-manage their diabetes effectively.
Our diabetes service provides holistic support to type 2 diabetes patients in the management of their condition in community and GP practice setting. The service offers foot protection for moderate and high risk type 1 and type 2 diabetes patients, and education and lifestyle management for type 1 and type 2 diabetic patients.
Our services are provided to help empower patients to self-manage their condition and maintain an independent lifestyle.
For Hammersmith & Fulham, Hounslow, Kensington and Chelsea, Wandsworth and Westminster, services run Monday to Friday from 9am to 5pm (with some evening clinics and education classes until 8pm).
For Merton, services run Monday to Friday from 8.30am to 4.30pm (with some evening and weekend education classes).
Barnet community diabetes service
Phone: 0208 732 6824, or to make appointments call 020 8732 6328
Diabetes Dietitian: 0208 732 6233
Parkinsons Unit,
Lower Ground floor
Edgware Community Hospital
Burnt Oak Broadway
HA8 0AD
(See map below)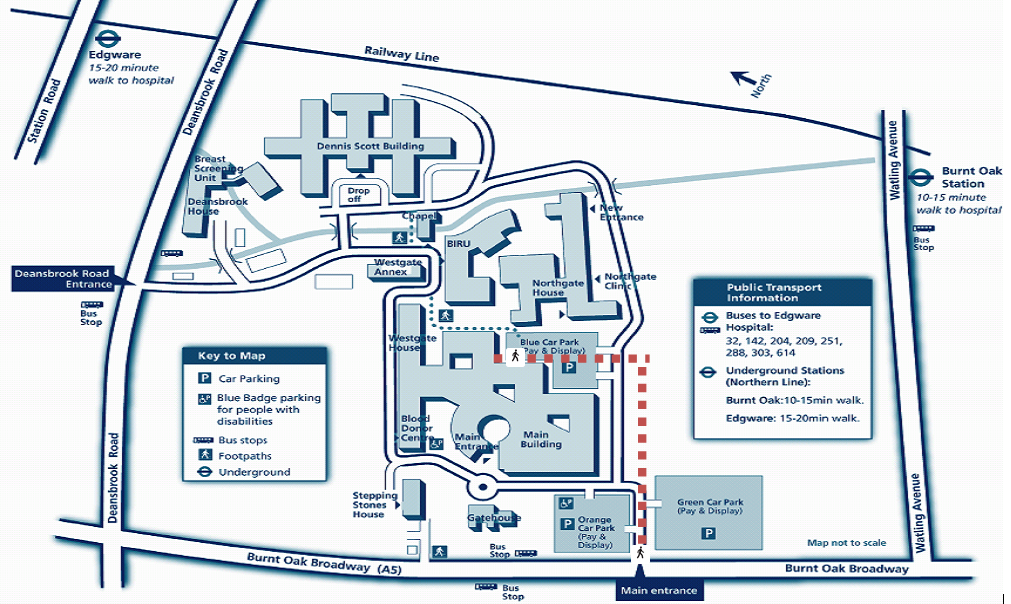 Finchley Memorial Hospital
Granville Road
Finchley
N12 0JE
Please note: The Central London Community Health reception desk, is located on the ground floor.
Barnet community diabetes service
Phone: 0208 732 6824, or to make appointments call 020 8732 6328
Barnet referral form and referral guidance
Phone: 020 8732 6824 or to make appointments call 020 8732 6328
Fax: 020 8732 6915
Other resources:
Diabetes uk www.diabetes.org.uk
Local diabetes uk – voluntary group – for more info, email info@diabetesbarnet.org.uk
Hammersmith & Fulham community diabetes service
Kensington and Chelsea community diabetes service
Westminster community diabetes service
From 1st June 2021, CLCH Diabetes Specialist Community Service in Merton & Wandsworth is launching the Diabetes Clinical Advisory Service.
The new service offers a Diabetes Clinical Advisory Service (DCAS) where healthcare professionals can contact the service for timely clinical advice and guidance from diabetes specialist nurses. The team of skilled nurses will be able to provide guidance to primary care colleagues on how to manage their patients and will also receive referrals for more complex patients. The team will also be available to discuss patient cases on the phone which can be arranged by sending a referral form providing direct contact details and stating advice needed.
Diabetes Clinical Advisory Service (DCAS)
DCAS can be used by healthcare professionals for either formal referral or to request advice/guidance/next steps/signposting so that patients are seen in the right service at the right time by the right diabetes clinician.
A LDSN will remotely review and return the referral with a written clinical management plan or you can request a telephone case discussion if direct contact details (not routine mainline) and times of availability are provided.
The key elements of the service are to:
manage patients referred by primary care
provide advice & guidance on 'next steps' in patient management to primary care in a responsive way
provide advice on using newer therapies in individual cases
work collaboratively with secondary care to step down patients to community service
support general practice through practice reviews & quarterly virtual support visits
Note:
DCAS will not replace existing pathways but will compliment them.
Primary care will continue to use existing pathways to refer to secondary care including urgent referral routes.
Quarterly virtual Practice support visits: a Lead Diabetes Specialist Nurse (LDSN) is available to meet with the Diabetes Leads from each surgery for 2 hours every 3 months. The surgery should do some preparatory searches (either with Emis or Eclipse) to identify the top 10 (or so) high risk patients identified who need discussion. This can also bring a lot of educational elements into the patient case discussions. Contacts and booking details are at the end of the bulletin.
Weekly Consultant led multi-disciplinary specialist clinic at the Alton Medical Practice, Wandsworth: to support the most complex patients in Wandsworth.
How to refer/request clinical support:
Wandsworth - please send usual referral form (found on the 'Ardens CLCH Community directory'), via normal 'managed referral' route to SPA regardless of whether it is for advice/guidance or for a formal referral.
Merton - please send usual referral form (found on the 'Ardens CLCH Community directory') via email to SPA regardless of whether it is for advice/guidance or for a formal referral
An overview of DCAS can be found in the image below: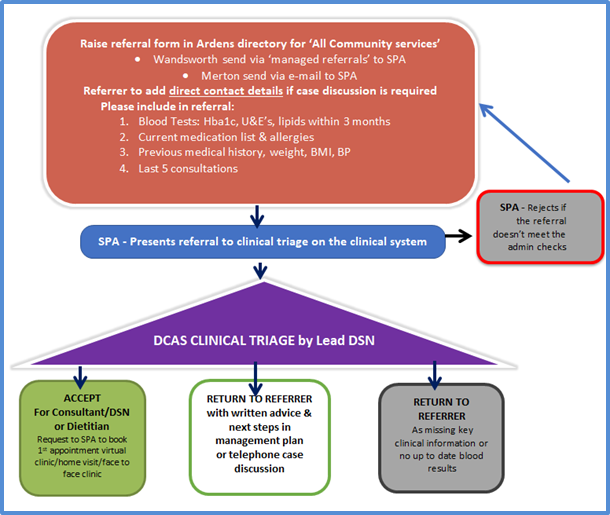 Any healthcare professional can refer into this service.
Patient inclusion criteria

Patient exclusion criteria

If referrer and/or patient need is unclear and care is not needed within 72 hours.

GP's should continue to use the existing emergency pathways for same day care to A&E/AMU if the patient is deemed medically unstable, e.g. new Type 1, DKA, severe hypos

HbA1c persistently (on at least 2 occasions or more) over 58 mmol/mol despite best efforts from primary care with management on 3 medications

Diagnosis of Type 1 or Type 2 is unclear

Complex Type 2 patients e.g. have severe frailty, multi-morbidity management

Rapidly deteriorating Chronic Kidney Disease and renal transplant

Acute podiatry e.g. Charcot or Foot ulcer

Eye clinic/retinopathy screening

Initiating and supporting injectable therapies

Pregnant

Children/ young adults

Support for insulin initiation and hypo management for group 2 Drivers

Type 1 patients who are unable to attend Tier 4 , those in residential/nursing homes or who have learning disabilities, Flash glucose monitoring e.g. freestyle Libre

Tier 4 for care of patients with Type 1 should be offered as first choice to the patient

Insulin Pump
Other exclusion criteria where referral will be returned to referrer with advice:
Newly diagnosed Type 2 Diabetes.
Type 2 structured education; please refer the patient to the 'Diabetes Book and Learn' portal.
Blood results over 3 months old.
Single Point of Access (SPA)

Telephone

E-mail

Merton Adult Services

0333 004 7555

Wandsworth Adult Services

0333 300 2350

0333 300 0950
Our SPA will offer more information about appointment availability/venue at the time of booking/processing the referral.
Merton and Wandsworth provide structured education for both Type1 (DAFNE) and Type 2 (DESMOND)
DAFNE (Type 1)
DAFNE involves attending a 5 day group session to help those with Type 1 diabetes to lead as normal a life as possible, while controlling their blood glucose levels, hence reducing the risk of long-term diabetes complications. The week includes practical skills of carbohydrate estimations, insulin adjustment and so much more under the supervision of DAFNE trained experienced educators consisting of a doctor, nurse and dietitian.
If you're interested in attending a DAFNE course, please discuss this with your healthcare professional who can refer you to the team.
Useful documentation
DESMOND (Type 2):
DESMOND is an evidence-based group education programme designed to help those with type 2 diabetes to gain the knowledge and skills to enable better self-management of diabetes for the long-term. You can be referred by your GP or self-refer yourself onto a course of your choosing at a location and date that is convenient for you in Merton and Wandsworth or South London.
Referrals are processed through 'Diabetes Book & Learn'. This is a NHS booking service which is designed to improve access to diabetes education courses across South London borough (Merton, Wandsworth, Sutton, Bexley, Bromley, Croydon, Greenwich, Kingston, Lambeth, Lewisham, Richmond and Southwark). You can either by referred by your healthcare professional or you can self refer.
To book onto an education group, you can visit the diabetes booking website or call the Diabetes Book and Learn service on 0203 474 5500 (for patients).
Useful documentation
Yes, for those who require booked hospital transport to attend other clinical appointments.
St Charles Centre for Health and Wellbeing
Address: Exmoor Street, London, W10 6DZ
Violet Melchett Clinic
Address: 30 Flood Walk, London, SW3 5RR
Health @ the Stowe
Address: 260 Harrow Road, London, W2 5ES
Lisson Grove Health Centre
Address: Gateforth Street, London, NW8 8EG
Pimlico @ the Marven
Address: 46-50 Lupus Street, Pimlico, London, SW1v 3EB
Parkview Health Centre for Health and Wellbeing
Address: 56 Bloemfontein Road, London, W12 7FG
Parsons Green Health Centre
Address: 5-7 Parsons Green, London, SW6 4UL
Richford Gate Primary Care Centre
Address: Richford Street, London, W6 7HY
Morden Road Clinic
Address: 254 Morden Road, SW19 3DA
Opening times: Monday – Friday (8.30am – 16.00pm)
Feltham Centre for Health
Address: 210 High St, Feltham TW13 4BH
Holly Road Medical Centre
Address: 2A Holly Road, Chiswick, London W4 1NU
The Alton Practice GP Surgery
Address: 208-210 Roehampton Ln, London SW15 4LE
Tudor Lodge Health Centre
Address: 8C Victoria Dr, London SW19 6AE
The Greyswood Practice
Address: 66 Eastwood St, London SW16 6PX