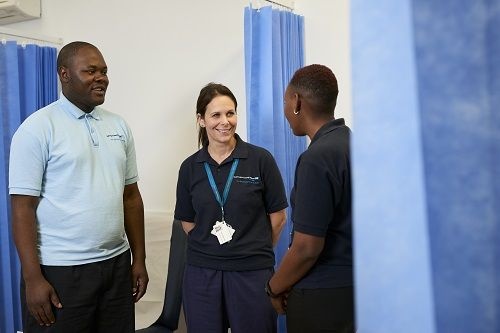 We offer a comprehensive and competitive employment package to ensure you benefit from the work you do here with us.
Working here you will not only become an integral part of delivering high-quality care in the community, but also become part of a friendly organisation that nurtures its employees and encourages you to make the most of our progressive employment policies and excellent benefits.
Find our latest opportunities here.
We reward you with a generous annual leave allowance that increases the longer you work here.
Starting off at 27 days per year plus eight bank holidays, your annual leave entitlement increases to 29 days after five years' and 33 days after ten years' NHS service. This service does not have to be continuous.
If you work part-time, your annual leave entitlement will be pro rata based on the number of hours you work.
The annual leave year runs from 1 April to 31 March.
We offer competitive salaries which include inner and outer high cost area supplements for working in London, depending on your location.
All our staff, except doctors and dentists who have their own pay scales, are paid under the Agenda for Change pay system: the national framework which sets out consistent terms and conditions and fair pay scales for all NHS employees. Under Agenda for Change, each NHS job has a band from 1 to 9, which indicates the pay scale through which you will progress while in your role. We show the band for each job in all our recruitment advertising.
If you join us from another NHS employer we will place you on the appropriate point on the scale to recognise your current experience. If you join us from an employer outside of the NHS, your manager will be responsible for identifying relevant experience so that you can be placed on the appropriate point on the scale.
Questions?
If you have a question about how Agenda for Change or our pay rates work, contact our recruitment team.
Useful links
You'll automatically be able to join the NHS Pension Scheme as soon as you start working here.
Employer pension contributions are generous at 14%. Your contributions range from 5% to 14.5% of pensionable pay and are taken from your salary before tax, so you receive tax relief on any amount you pay. You also pay less National Insurance.
You additionally have the option to receive added benefits, including ill health benefits, a tax free lump sum and death-in-service benefits for your family.
The NHS pension scheme is guaranteed by the government and protected against inflation.
Useful link
We encourage staff to continue to play an active part in the life of the NHS for as long as possible.
This could be through winding down (working fewer days in your current post) or stepping down (for example, into a less demanding job on lower pay, but which still makes good use of your skills and experience), phased or flexible retirement or bank and voluntary working after retirement. We'll talk you through the different options available if you are approaching retirement age. We also run preparing for retirement courses to give you additional support when you want to start planning your retirement.
Once you do retire, the NHS Retirement Fellowship runs regular activities for NHS retirees in local areas and is open to you and your partner to join.
Useful link
As an NHS employee here you are entitled to occupational sick pay.
You may be entitled to up to six months at full pay and six months at half pay, depending on your length of service.
Entitlements to occupational sick pay are set out in section 14 of the Agenda for Change handbook.
Useful link
We offer a range of exclusive staff benefits, including flexible working arrangements, help with childcare, subsidised access to sport and leisure facilities, generous annual leave and pension contributions. As well as this, some of our main benefits include:
Learning and development opportunities to support your career progression
Option to join our in-house staff bank where you can work additional hours at competitive rates
Family friendly flexible working arrangements
Maternity, paternity and sick pay entitlements and flexible working options
Support with accommodation, including: rented accommodation loans, we work alongside organisations providing key worker accommodation for short or long term rental, plus other schemes such as rent-to-buy and intermediate renting
Walker's and bicycle allowance scheme
Free flu vaccination every year
Recognition through our employee of the month scheme and annual glitzy staff awards ceremony
…and many more
Salary exchange is when you exchange part of your monthly salary for a benefit and could save you money.
We currently offer the following schemes here:
Cycle-to-work scheme
Childcare vouchers scheme
Interest-free season ticket loan and rental accommodation
Education loan
Information and advice
Central London Community Healthcare NHS Trust currently provides an information and advice service to support all staff across the Trust with guidance and assistance in finding and securing accommodation.
The Accommodation Officer is available Monday-Friday between 9:30am-5:30pm to answer all enquiries regarding accommodation needs and housing support.
We currently work with a number of housing associations across London and may be able to help staff secure keyworker accommodation. The Accommodation Officer manages all nominations to Trust partner accommodation.
CLCH Accommodation contacts
Accommodation enquiries and support:
Email: j.dadson@nhs.net
Telephone: 07385416168
We work with a number of local and national providers to secure discounts for you and your family. Depending on where you work, you may be able to save money on meals out, food shops, etc.
We offer discounted gym memberships at a number of local fitness centres and gym providers, and we also have a dedicated employee health unit in Kensington and Chelsea's St Charles' Centre, which you can join at a reduced rate.
Some of our sites have subsidised restaurants and other on-site facilities, and you will also have access to:
Our staff currently take advantage of a large range of flexible working opportunities including: job sharing; pre-retirement, part-time working; condensed hours; term time (or part year working); home working; flexible start/finish times; time off for public and trade union duties; and study leave allowance.
Also see our training and development and health and wellbeing sections.