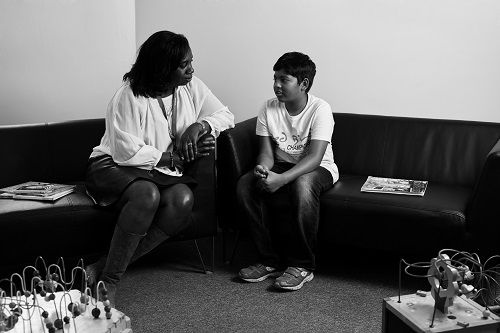 We have a variety of exciting jobs on offer working across London and Hertfordshire. We are an equal opportunities employer and all applications are welcomed and considered regardless of a person's race/ethnic origin, age, sex/gender, religion/belief, disability, marital status, pregnancy/maternity, sexual orientation or gender reassignment. We aim to create a workforce that reflects the diversity of the community we serve.
We welcome applications from disabled candidates and are a disability confident employer, disabled applicants need only meet the essential criteria detailed on the person specification to be invited to interview under the Guaranteed Interview Scheme. We are happy to make any reasonable adjustments to the recruitment process to enable you to pursue your application – just make sure that you let us know when you apply.
Are you a passionate and innovative nurse who wants to deliver high standards of dignified care? Are your values about integrity, diversity, compassion, support and excellence? If so, then please get in touch.
We have a wide range of nursing opportunities for both newly-qualified and experienced individuals.
We pride ourselves on our supportive teams, comprehensive training, preceptorship programme for those who are newly qualified, innovative career development and flexible working practices.
AHPs provide system-wide care to assess, treat, diagnose and discharge patients across social care, housing, education, and independent and voluntary sectors.
At CLCH, we want to ensure that as many people as possible can continue to live healthy and independent lives, and in order to make this possible we need top-class therapy teams. If you're a physiotherapist or an occupational therapist looking for a fulfilling career in at the centre of London?
We offer excellent support for clinicians, comprehensive in-service training and regular help from your experienced, senior peers.
We can help your career development by offering support for external post-graduate courses and can provide a breadth of experiences across a range of community services.
If you are looking for an exciting career in the NHS then look no further. Our Healthcare Assistants and Clinical Support Workers provide critical support to CLCH. So if you are looking for a rewarding career with great opportunities for development then why not apply for one of the roles advertised on NHS Jobs.
We recognise the value in having a talented non clinical workforce. Take a look at some of the exciting roles we have on offer!
Look out for our up and coming open days over the year. We have a number of events taking place across London and the UK. Come and talk to us and who knows, you might be going away with a new job offer!
Our next up-and-coming open days will be added shortly.
There are lots of opportunities for temporary work with us.
We have a staff bank for clinical and administrative roles. You don't need to have a permanent job with us; you can register with our bank and work the shifts that suit you.
If you would like to test the water before, then give our HR team a call on 0330 024 0330 – option 2. We'd love to hear from you. As a bank worker, you can expect to benefit from:
Flexible working arrangements to achieve a better work-life balance
Gradually return to work after a break
Gain skills and experience
Experience working for us without the commitment of a permanent post
Relocating from another part of the country/world and wanting to see if CLCH is the right place for you.
Our pay rates are competitive and are based on the agenda for change pay scales.
Work for us
Do you want to make a tangible difference to people's lives, with the best of London life on your doorstep?