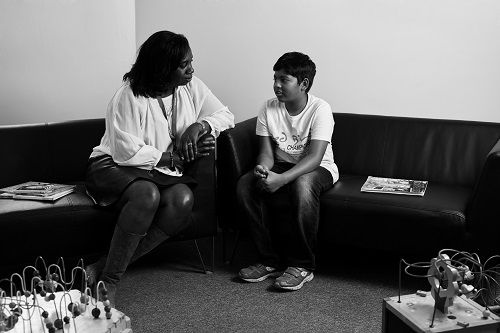 We have a variety of exciting jobs on offer working across London and Hertfordshire. We are an equal opportunities employer and all applications are welcomed and considered regardless of a person's race/ethnic origin, age, sex/gender, religion/belief, disability, marital status, pregnancy/maternity, sexual orientation or gender reassignment. We aim to create a workforce that reflects the diversity of the community we serve.
We welcome applications from disabled candidates and are a disability confident employer, disabled applicants need only meet the essential criteria detailed on the person specification to be invited to interview under the Guaranteed Interview Scheme. We are happy to make any reasonable adjustments to the recruitment process to enable you to pursue your application – just make sure that you let us know when you apply.
Take a look at our latest jobs or find out more about working for CLCH in Hertfordshire.
Are you a passionate and innovative nurse who wants to deliver high standards of dignified care? Are your values about integrity, diversity, compassion, support and excellence? If so, then please get in touch.
We have a wide range of nursing opportunities for both newly-qualified and experienced individuals.
We pride ourselves on our supportive teams, comprehensive training, preceptorship programme for those who are newly qualified, innovative career development and flexible working practices.
AHPs provide system-wide care to assess, treat, diagnose and discharge patients across social care, housing, education, and independent and voluntary sectors.
At CLCH, we want to ensure that as many people as possible can continue to live healthy and independent lives, and in order to make this possible we need top-class therapy teams. If you're a physiotherapist or an occupational therapist looking for a fulfilling career in at the centre of London?
We offer excellent support for clinicians, comprehensive in-service training and regular help from your experienced, senior peers.
We can help your career development by offering support for external post-graduate courses and can provide a breadth of experiences across a range of community services.
If you are looking for an exciting career in the NHS then look no further. Our Healthcare Assistants and Clinical Support Workers provide critical support to CLCH. So if you are looking for a rewarding career with great opportunities for development then why not apply for one of the roles advertised on NHS Jobs.
We recognise the value in having a talented non clinical workforce. Take a look at some of the exciting roles we have on offer!
Look out for our up and coming open days over the year. We have a number of events taking place across London and the UK. Come and talk to us and who knows, you might be going away with a new job offer!
Our next up-and-coming open days will be added shortly.
A wide range of flexible work opportunities are available via our Staff Bank.

Whatever your skill set, grade or specialty, we can offer you a flexible work pattern to suit your needs and full support, 24-7 from a team dedicated to ensuring you get the best out of bank work, developing your skills and experience as you earn.
For more information about joining the bank, click here.

Alternatively simply call our bank team direct on 0203 937 8322.
If you are a patient, carer or family of a patient, please raise any concerns or make suggestions with the PALS team.
Speaking up is about anything that gets in the way of doing a great job. Whether you think of it as speaking up, raising concerns or whistleblowing, whether it is linked to patient care, systems, processes, your experiences at work, or something else:
YOUR VOICE MATTERS. BE HEARD. TOGETHER WE CAN MAKE A DIFFERENCE.
When things go wrong, we think something might go wrong, or when things are good but could be even better, it is important that we all feel able to say something, confident that we will be listened to and that it will be used as an opportunity for learning and improvement.
Our Freedom to Speak Up Vision: "We are committed to promoting an open and transparent culture across the organisation to ensure that all members of staff experience a compassionate climate where they are confident to speak up and everyone can learn."
Anyone who carries out work for the Trust is encouraged to speak up. That includes healthcare professionals, non-clinical staff, all managers, volunteers, students, bank and agency workers and former employees. We have a Freedom to Speak Up Policy.
Our Freedom to Speak Up Guardian is Liz Lubbock. She will help workers to speak up when they feel they cannot do so through their line manager or by other routes. Liz is supported by a network of Freedom to Speak Up Champions. She can be contacted on email: clcht.ftsu.email@nhs.net. Alternatively, you can email clch.whistleblowing@nhs.net to contact our Non-Executive Director Lead for Freedom to Speak Up, Dr Carol Cole.
This link will take you to the National Guardian's Office where you will find more information about speaking up in the NHS.