Cheque out our diabetes service
Published: 16th April 2014
A donation from Tesco will be used to part fund a diabetes screening and health promotion day on Saturday 19 July at a store in Brent Cross.
Event details:
Saturday 19 July 2014, 10am - 3.30pm
Tesco Brent Cross
Hendon Way Superstore
Tiling Road
NW2 1LZ
The event includes:

Assessing your risk of developing diabetes, advice on diet & weight management and activities such as Pilates and Bollywood dancing.

The £500 donation was made when Suraiya Kholil (pictured), our diabetes nurse specialist, was the guest of honour at a different store opening in Edgware who chose to donate to our service as part of its commitment to supporting the local community.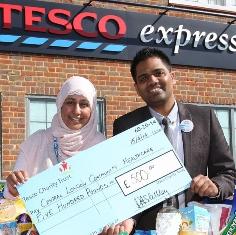 Suraiya Kholil, who works across the whole of Barnet said:
"We are very grateful for this donation from our new local Tesco Express store. Currently, our community specialist diabetes service treats over 2,500 Barnet residents every year. This includes seeing people who have developed complications from diabetes as well as delivering a structured education programme for people newly diagnosed, which will enable them to manage their day-to-day diabetes.
"The money that Tesco has kindly donated will be used to set up a healthy eating workshop for one of the local communities in Edgware where we have a number of hard-to-reach groups. This is a great opportunity to prevent or delay diabetes as there is an enormous need for this type of health promotion."
Tesco Express store manager, Devang (also pictured) said:
"We have really enjoyed our store launch celebrations and I would like to thank Suraiya from CLCH for joining us. We are delighted to support CLCH with a £500 donation as they are a great charity which carries out such invaluable work in the Edgware community."
Devang added: "We are hearing very positive feedback from our new customers. My staff and I want to make this a local store for local people, and aim to give our customers fantastic service and prices as well as providing a wide range of quality products."
Click here to find out more about our community diabetes services.