Quick wins to reduce consumption in your home

The Energy Saving Trust provides a wide range of quick, accessible, and cost-effective sustainable solutions and ideas for homes.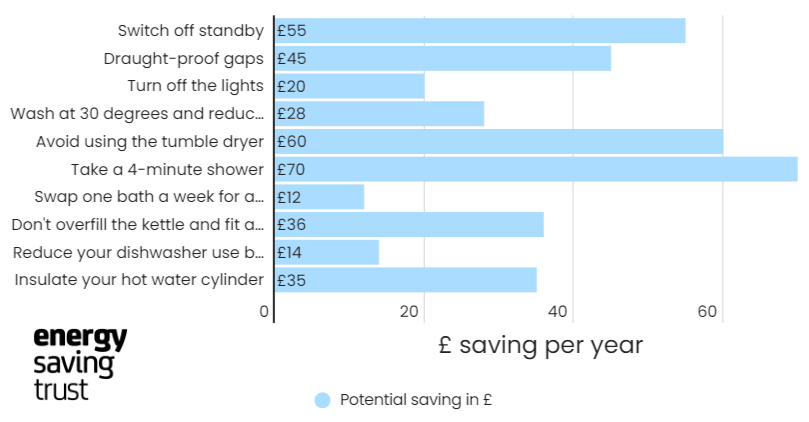 Quick tips on turning off lights and appliances off standby mode, use of home appliances and other easy ideas.
https://energysavingtrust.org.uk/hub/quick-tips-to-save-energy/
Reduce heat loss by draught-proofing and insulating windows, doors and radiators. The kits required for this are widely available in homeware stores and online and installing is an easy DIY job.
https://energysavingtrust.org.uk/energy-at-home/reducing-home-heat-loss/
Use energy efficient light bulbs and appliances.
https://energysavingtrust.org.uk/energy-at-home/buying-energy-efficient-products/
Control your heating and boiler with the most efficient settings.
https://energysavingtrust.org.uk/advice/thermostats-and-heating-controls/
Help to improve your home

Boiler upgrade scheme – The government is providing grants to encourage property owners to install low carbon heating systems such as heat pumps, through the Boiler Upgrade Scheme (BUS). These grants can help property owners overcome the upfront cost of low carbon heating technologies.
Energy Company Obligation (ECO) – This government scheme aims to tackle fuel poverty and helps reduce carbon emissions by supporting energy efficiency improvements, including insulation and some heating improvements, in low income and vulnerable households.
London Warmer Homes programme – The Mayor of London's Warmer Homes programme provides free heating, insulation and ventilation improvements for low income Londoners who own their own homes or rent privately.
Planning energy improvements – You can get help from your local authority and through other channels.
https://www.citizensadvice.org.uk/housing/moving-and-improving-your-home/help-with-home-improvements/
Living in rented property – Tenants have rights to request energy efficiency improvements to their homes.
https://heat-insulation.co.uk/2021/07/23/tenants-right-to-request-energy-efficiency-improvements/​​​