Respiratory Nurse on Sky News
Published: 13th January 2014
'Day in the life' of nurse is broadcast live
Our respiratory service in Barnet hosted a Sky News crew and reporter for a day as part of their NHS 'Matter of Life + Death' theme that ran throughout last week.
Maria Musiska, is a respiratory nurse specialist, and her team of ten support 3,000 patients per year across Barnet. Maria was interviewed live on Sky News throughout the day from a number of different settings including a ward at Barnet Hospital and several patients' homes. The reports gave an excellent insight into how patients can be looked after in their own homes by specialist healthcare professionals and help avoid those patients being admitted to hospital.
Maria Musiska (pictured with a patient, right) said of the experience: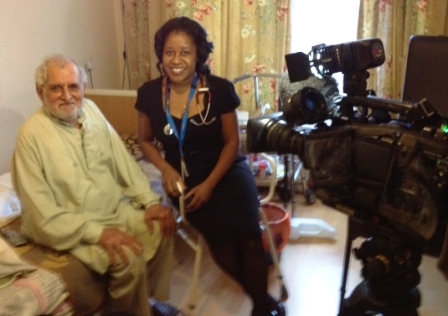 "It was an interesting experience to visit patients I would normally see but instead of having a one to one consultation, I had a large TV crew and a satellite broadcast van as well. The patients were all very accommodating and really pleased to help us raise awareness of the sort of care they get in the community helping them to manage their condition. It is certainly a day we will all remember and it helps demonstrate that we can provide safe care within patients own homes as an alternative to hospital care."
To view an extract from one of the clips of Maria on Sky News, please see links below. Please note the link you should use depends on the type of media player you have available on your computer: