Outer North West London colleagues raise money for Pembridge Hospice Charity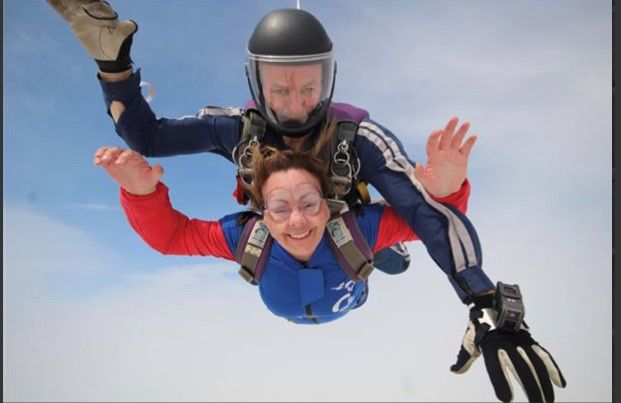 Published: 31st August 2022
A team of 6 CLCH staff members across Harrow and Brent intended to skydive to raise money for the Pembridge Hospice Charity in May 2020. However due to Covid, the team were not able to undertake their jump until July 2022. The team consisted of Jackie Allain, Natasha Azzopardi, Hina Shah, Frances Sepulchre, Thamara Wijethunge and Ngozi Wosu.
They raised a fantastic total of £6200 for the charity. Well done to our Outer North West colleagues!
Frances Sepulchre, Advanced Physiotherapist said: "Amazing experience for a charitable cause. Thanking those who donated for Pembridge Hospice Charity."
Hina Shah, Team Leader Harrow Rapid Response said: "This was an epic out of the world experience. I must say it was scary when your feet are dangling in the sky from the plane, but after that you just forget about all your worries! Great cause and proud of the money we all raised to support Pembridge."
Natasha Azzopardi, CBU Manager Brent Planned Care Services said: "I would say nothing in the world prepares you for such an indescribable and exhilarating experience. Daunting but very rewarding experience, especially when it's done for such a great cause such as ours. It is the closest you can get to flying and definitely would encourage people to try it once in their lives!"
Thamara Wijethunge, Occupational Therapist said: "Jumping out of a plane 13000ft at the speed of 120mph was the scariest adventure of my lifetime. Having covid twice during the pandemic as well as suffering with post-covid syndromes, I really did not expect to complete this jump.
It was a breath-taking event – I was left speechless. My instructor reassured me and made me feel safe by talking to me and taking some pictures that made me smile. I felt calm and floated with the parachute by leaving clouds behind us and enjoying the countryside views. I think everyone should do something that scares them occasionally. Thank you to my colleagues and families for all your donations for Pembridge hospice Charity-CLCH."
Ngozi Wosu, Harrow Therapy Services Lead said: "Even though it was very scary, the calmness I held was just unimaginable. It was a wonderful and awesome experience. For a reason such like this, I would do it again."