Nutrition and Hydration Week: Nutrition support in Long Covid
Published: 18th March 2022
Long Covid is defined as signs and symptoms that develop during or following an infection consistent with COVID-19, continuing for more than 12 weeks and the causes of Long Covid are yet to be fully understood. About 1.3 million people in the UK have 'Long Covid', symptoms lasting more than four weeks after an initial infection, an Office for National Statistics survey suggests.
Many of the symptoms are potential obstacles to adequate food intake, including the ability to shop and prepare meals. Over time this can lead to further exacerbate malnutrition, frailty and/or sarcopenia (the loss of muscle mass and strength), which ultimately impacts on recovery from COVID-19. With this in mind, we would like to commend our community Dieticians who have played an integral role during the pandemic ensuring patients received the right nutrition needed.
The figure below outlines the benefits of nutritional food intake and eating a varied and balanced diet to help ease symptoms and potentially support rehabilitation and recovery.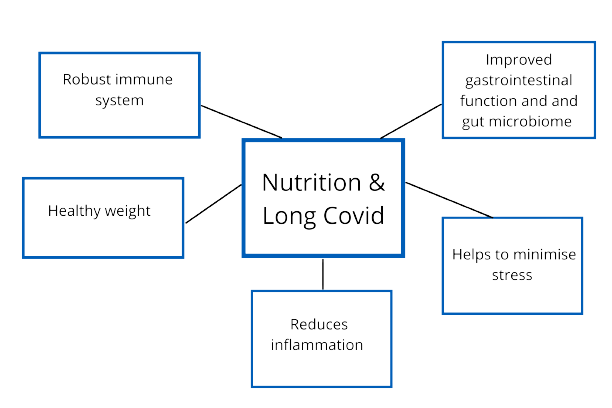 There is no single diet that prevents or treats Long Covid based on existing evidence. A well-balanced diet rich in protein and energy-dense meals is vital for boosting weight gain, minimising or preventing weight loss, rebuilding muscle/regaining strength, and increasing energy levels to support daily activities.
You can find abundance of resources and nutritious recipes and ideas online for you to try at home. For advice and tips on nourishing diets for adult patients or for yourself and how get the most out of eating well with Long Covid see:
Our nutritionists and dietitians work collaboratively with diverse multidisciplinary teams ranging from general practitioners to hospitals to develop a tailored treatment plan for provide patients to ensure they receive optimum treatment and care. Learn more about our nutrition and dietetics services offered in London: https://bit.ly/3s0DCLb