National recognition for work on equality
Published: 13th March 2014
We are in top 10 of the healthcare equality index
Central London Community Healthcare NHS Trust (CLCH) have been announced as the ninth best healthcare organisation delivering equality for lesbian, gay and bisexual people in England by national charity, Stonewall.
The Healthcare Equality Index is a tool for health organisations to benchmark and track their progress on equality for their lesbian, gay and bisexual patients and communities.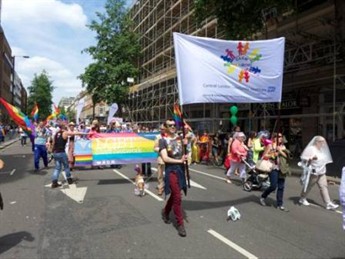 44 healthcare organisations entered the Index, providing services to patients across all regions of England. Organisations that entered were assessed against criteria including policy and practice, engagement and communication, health promotion and staff training.
James Reilly, chief executive said:
"I am very proud that today CLCH has been ranked ninth in Stonewall's Healthcare Equality Index 2014. This places us amongst the leading trusts recognised for promoting equality and taking active steps to improve services for lesbian, gay, bi-sexual and transgender (LGBT) patients. We are also working hard to move up the ranks of the Stonewall Workplace Equality Index which recognises LGBT-friendly employers and are knocking on the door of joining the top 100 organisations nationally".
"Through the work of our small but impactful Equality and Diversity Team, we support work across the trust to make a reality of our commitments in this area. So I was pleased to join in reflecting on the work of the Rainbow Network for LGBT staff. There have been great strides in making our organisation more friendly to LGBT staff and to patients from these communities".
Click here to find out more about our Equality and Diversity team.
Click here to read the Healthcare Equality Index in full.