Money raised on World TB Day
Published: 24th March 2014
Support for TB Alert charity on World TB Day, 24 March 2014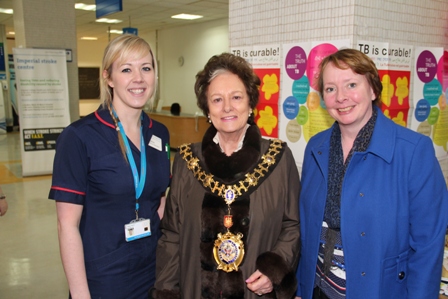 A local NHS service run by Central London Community Healthcare in Hammersmith & Fulham showed its support for World TB Day by holding an awareness and fundraising event at Charing Cross Hospital.
The event was a huge success as the Mayor of Hammersmith & Fulham joined members of the public, tuberculosis (TB) nurses, doctors as well as patients to find out more about the TB service and help raise money for charity by buying cakes and entering a raffle. The event raised over £1,500 for the charity TB Alert, who are a close ally of the service that is run in partnership with Imperial College Healthcare NHS Trust.
Tracy Palmer, TB nurse specialist at Central London Community Healthcare NHS Trust (pictured with the Mayor and Janine Smythers, a TB patient) said:
"TB has been on the rise in London and it's really important that people understand how it can be contracted and how to spot the signs early enough so that it can be properly treated. Our service treats people in local communities and in their own homes as well as in hospitals, as we are working to make NHS care as convenient, effective and practical as possible for patients. TB Alert do excellent work to support some of the most vulnerable people with TB, which is why we are showing our support for them today".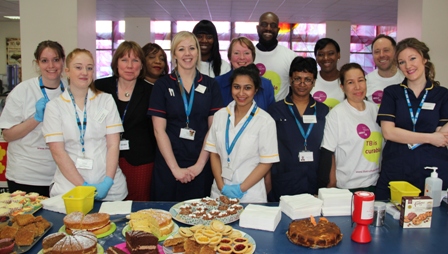 The Mayor of Hammersmith & Fulham, Cllr Frances Stainton said:
"I didn't realise TB was so close to home and events like today are very important because they raise awareness. I spoke to a patient, Janine, who didn't realise she had TB until she was diagnosed. Because she came to the service early it never reached her lungs so she wasn't contagious but it shows the importance of early treatment. Today was a great event, I found the cakes irresistible and I have lasting admiration for the nurses' skill as amateur cake bakers!"
Click here to read Janine Smythers' story in the local newspaper
Click here to find out more about Imperial College Healthcare NHS Trust