Minister visits award winning falls service
Read more about this page below
Published: 27th March 2014
Event organised with the Chartered Society of Physiotherapy
Minister of State for Care and Support Norman Lamb MP (pictured) visited our award-winning falls prevention service in Westminster this week.
The innovative service, led by physiotherapists and occupational therapists, has in just one year halved the number of falls suffered by older people. It provides exercise classes and tailored programmes to help people stay well and out of hospital.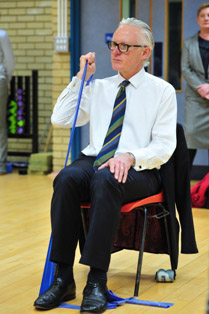 Falls are the leading cause of death in people aged over 75 in the UK, yet they can be prevented, so enabling patients to avoid hospital admissions. In addition to keeping people independent and avoiding the emotional impact of a fall, this preventative approach also results in significant cost savings for the NHS. A hip fracture can cost approximately £10,170 per patient and across the UK the cost of falls to the NHS is estimated to be £4.6m a day and £1.7bn a year.
During his visit to the community based service Norman Lamb MP joined an exercise class which works to build muscle strength and improve balance, so reducing the likelihood of a fall. This enables many older people to maintain their independence and mobility.
The service helps its clients who have had a fall, or have a fear of falling, as well as others who choose to self-refer because they feel they would benefit from the advice and exercise classes. The team also provide a rapid assessment for local people who are moving into a care home to identify potential risks and strategies to prevent falls.
Health Minister, Norman Lamb said:


"The fact that in just one year this project has halved the number of falls is amazing - it's exactly the kind of community-based care that we'd like to see up and running across the country.

"It was great to meet both the experts and the people who are benefiting from these classes which are helping to keep people fit and healthy and out of hospital."
Sally Miller, professional lead physiotherapist, Central London Community Healthcare NHS Trust, said:
"Falling is a major health issue for older people. Our award winning service in Westminster has achieved some excellent results in recent years working as a multidisciplinary team. Physiotherapists have played a large role in this.
"As a community healthcare provider we encourage this cross-discipline approach in settings that are convenient and suitable for the clients' needs as they can greatly contribute to helping avoid hospital admissions further down the line".
Sue Rees, Chair of Council at the Chartered Society of Physiotherapy, said:
"Falling is serious and frequent in people aged 65 and over, each year more than one third of people over 65 experience one or more fall.
"The service provided by the NHS staff in Westminster is a fantastic example of how community based physiotherapy, as part of a team, is vital for keeping people well and healthy. It not only keeps people independent and reduces the devastating physical and emotional impact of falls but is cost effective in preventing unnecessary hospital admissions in the first place".
Click here to find out more about our falls prevention service
Click here to find out more about the Chartered Society of Physiotherapy