Mayor of Brent officially opens CLCH's new adults' rehabilitation ward
Central London Community Healthcare NHS Trust (CLCH) had the pleasure of welcoming The Mayor of the London Borough of Brent, Councillor Abdi Aden to the official opening of its new adults' inpatient rehabilitation ward (Furness Ward) at the Willesden Centre.
The new adults' rehabilitation ward consists of 19 patient beds, and state of the art therapy equipment, to support the rehabilitation and transfer of patients back to their normal place of residence.
The ward caters for a wide variety of conditions that require intensive therapy over a two-week period to allow patients to regain as much independence as possible. Therapy services provide patients with support for mobility, washing, dressing and the ability to use kitchen appliances.
During the visit, the Mayor, Cllr Abdi Aden was able to see first-hand and gain an insight into the service the team provides, and he also met some patients on the ward.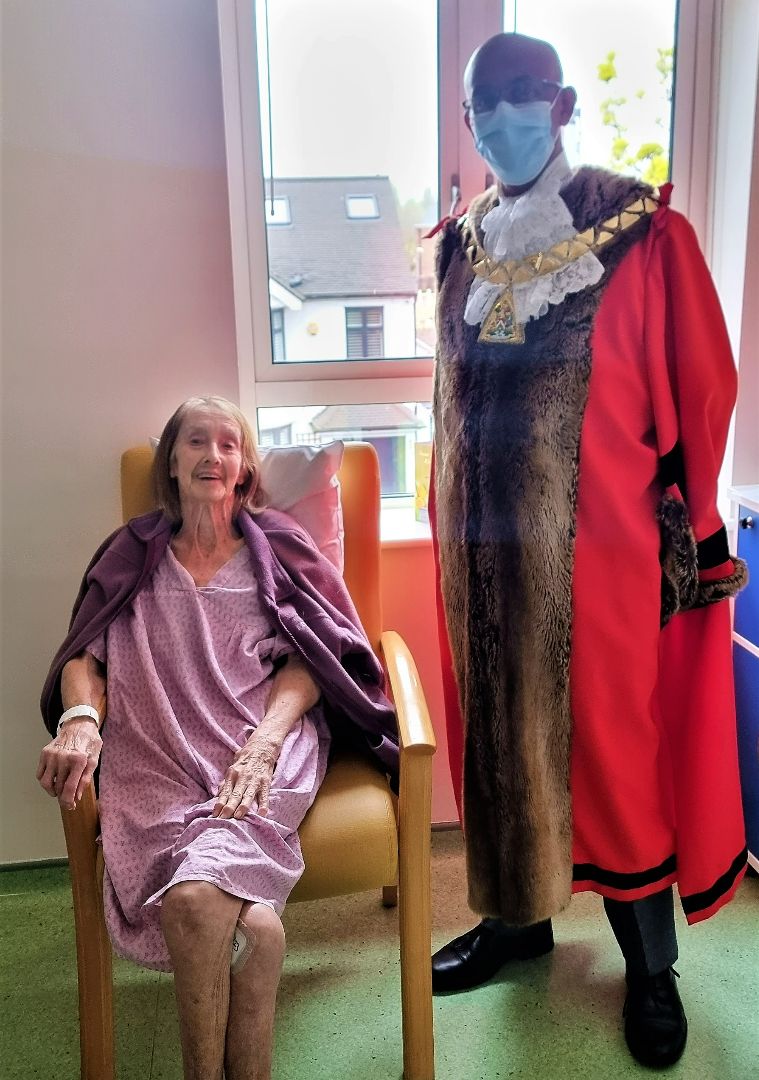 Patient, Patricia (aged 83) was delighted to meet the Mayor and share her story.
Patricia(pictured left) was admitted to the ward after having a fall at home which caused her a lot of pain and resulted in a decline in her mobility function. As she struggled to walk and was unable to get herself in and out of bed, the team provided daily therapy including strengthening and balance exercises, for getting in and out of a bed and chairs, and walking practice with a walking aid.
Patricia said: "Every morning, the staff check in on me to see how I am feeling. After I am given my medication, I am seen by the team to start my recovery through these exercises. I have seen the difference already from being admitted to the ward to now, in terms of my balance and being able to walk confidently. I am pleased with the progress I am making and that is thanks to the team!
"The NHS is close to my heart as I initially trained to be a nurse in 1965. I am proud to have been part of the NHS, and even prouder to see the fantastic developments that have taken place throughout the years. It is great to be on a ward where staff are so friendly and kind. The care I have received by the team has been fantastic and they have really looked after me and made me feel safe."
Since then, Patricia has returned home with a walking frame and a care package in place to minimise falls risk and improve her mobility function at home. CLCH has worked closely with social services to ensure that Patricia is seen by a carer every day for six weeks. She has also been referred for community therapy to continue strengthening her mobility and helping her to maintain her independence.
The Mayor, Cllr Abdi Aden, said: "From speaking with the team and a few patients on the ward, I can see the brilliant job and outstanding care that the team have been providing already. The therapy services on the unit are a great way to support patients to maintain or regain their independence.
"A huge well done to everyone involved in supporting the ward opening and for keeping our community and patients safe. Your hard work does not go unnoticed, and you should all be very proud."
Charlie Sheldon, Chief Nurse at CLCH added: "The event highlighted the fantastic work that the team has been doing.
"Our community adults' rehabilitation ward will continue to support discharge from acute hospitals and provide high quality, important specialist care for our patients and their families closer to home.
"A huge thank you and well done to everyone involved!"