Local eatery is latest place to be given award
Read more about this page below
Published: 25th June 2014
Event marks Breathe Easy Week
Last week was Breathe Easy Week and members of the CLCH respiratory team attended an event organised by the British Lung Foundation in Eccleston Square, Victoria in Central London.

The aim of the event was to raise awareness of respiratory issues, the health services available in the community and to promote healthy living to improve quality of life. The team of respiratory specialists measured people's height, blood pressure, pulse rates and performed a lung functioning test (using a handheld spirometer machine).

There was a great turn out as people came to see what services are available and to enjoy a super buffet supplied by volunteers, sandwiches donated by Pret A Manger and of course, the main attraction the cheese and wine tasting provided by local Rippon Cheese Stores.

Claudia Posso, respiratory team leader at CLCH said: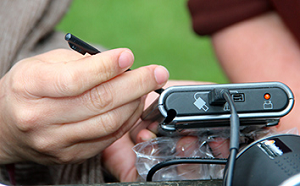 "This was an excellent event to support Breathe Easy Week. If anyone's readings were a cause for concern then we would refer them onto their GP and give advice on where to get help by suggesting other CLCH services including the smoking cessation service and the pulmonary rehabilitation service".
One of the most prevalent respiratory conditions is Chronic Obstructive Pulmonary Disease (COPD) and the main cause of COPD is smoking. The likelihood of developing COPD increases the more you smoke and the longer you've been smoking. This is because smoking irritates and inflames the lungs, which results in scarring.
COPD is one of the most common respiratory diseases in the UK. It usually affects people over the age of 35, although most people are not diagnosed until they are in their fifties.
Click here to find out more about our respiratory services.

Click here to find out more about the British Lung Foundation.