Published: 14th January 2014
Medicine for members - free community event
More than 3 million people in the UK are living with diabetes. Growing numbers are experiencing serious complications such as heart disease, kidney disease, stroke and blindness.
Come and join us at this free health talk to find out more about diabetes treatment, management and what our community services are doing to help people live a full and healthy life.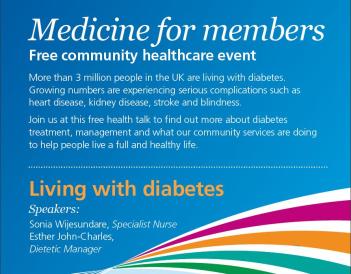 Membership manager and event organiser, Shirley Rush says:
"This will be a great event for Londoners to come along to and learn more about how diabetes can be treated in the community by our specialist teams. Diabetes is one of the biggest long-term-condition issues that our ageing population faces and so this is an excellent opportunity for people to meet our experts, ask questions and hear how patients are treated. Everyone is welcome so don't hesitate in signing up!".
Event information
Speakers:
Sonia Wijesundare, Specialist Nurse
Esther John-Charles, Dietetic Manager

Date: Thursday 30 January 2014, 5.30 - 7.00pm
Venue: 1st floor conference room, Soho Walk-in Centre, 1 Frith Street, London W1D 3HZ
To book a place please email clchmembership@nhs.net, or call free on 0800 169 6134.