The latest edition of our community magazine @CLCH now available
Read more about this page below
Published: 5th December 2016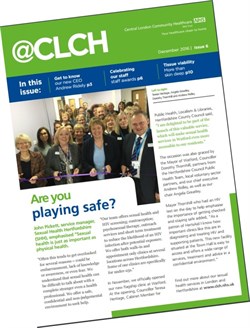 @CLCH - the December issue of our quarterly community magazine is now available via the publications section of our website.
Read about the opening of our sexual health clinic in Watford; get to know our CEO Andrew Ridley; find out how our family nurse partnership changes lives; what a day at the Finchley Memorial walk in centre looks like; and what happened at our annual staff BME conference.
Other highlights include articles about our staff awards 2016; getting to know our neuro-rehab, Barnet continence and Harrow tissue viability teams; working over the festive period; how students got on without pens for a day in school; and how we did in the Global Corporate Challenge.
As ever, we are keen to receive your feedback on the magazine so please do get in touch by contacting our communications team.