Knight in shining armour
Read more about this page below
Published: 19th October 2016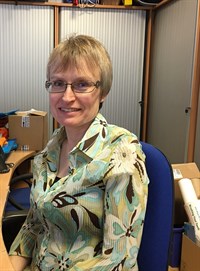 On an autumnal September morning, Alison Fraser who is an Oral Health Promoter in the Community Dental Services team was on her way to work as usual when something unexpected happened. Talking about the unusual events of the morning, Alison says, "I was on my way to work walking to my nearest tube station down a fairly busy residential road with parents dropping children at local schools.
A lady, who I had never met before, was sitting alone in her car at the steering wheel and I noticed her waving at me. She could barely talk but was asking for help, was crying and seemed in distress. At first I thought she had been attacked, but when I approached her open car window she showed me her blue inhaler, handed me her mobile and indicated she could hardly breathe or talk. She had already dialled 999 but could barely talk to the emergency services so wanted me to talk to them on her behalf. She showed me her work badge with her name. The emergency services advised me to try and keep her calm and tell her to take sips of water, and let her know they were on their way. She was in the correct position already sitting upright at her steering wheel.
They arrived within a few minutes of the phone call as she was a priority with her condition and they were in the area. The paramedics asked her a number of questions, e.g. did she feel pins and needles (due to lack of oxygen) and took over her care at this point, so I knew she was out of danger then. I have not seen the lady again to be able to check up on her.
We do yearly Immediate Life Support training with CLCH and this recent training gave me confidence with this unexpected event."
In her day job, Alison's role is to promote good oral health and access to dental services within schools and early years; with parents and carers, and with vulnerable adults and general public.