Keeping our communities healthy
Read more about this page below
Published: 31st March 2014
"You don't have to be healthy to be active - you can still do some sort of exercise even if you have high blood pressure or a long-term condition." That was the message from Dimitrios Fragkoudis, one of our physical activity instructors, to the audience at the latest Medicine for Members event on 26 March at Soho Walk-in Centre.
Dimitrios and his colleagues from our Health Improvement Team explained how their team works together with a variety of health professionals to help our communities stay healthy.
Chris Morgan, Health and Wellbeing Service Manager, set the scene by explaining the team's work in developing effective ways to help people improve their health by developing healthier lifestyles. One of the ways they do this is by instructors like Dimitrios running physical activity programmes anyone can take part in, tailored to people's different levels of fitness and ability. Not only do the programmes increase people's physical health, they can also improve mental wellbeing and equip people with the skills to make healthier choices in the rest of their lives.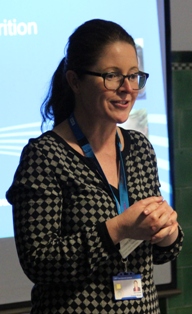 Asking the audience, "how many steps is it recommended that an adult takes every day?", Dimitrios told us that the answer is a surprisingly large 10,000. But it was his turn to be surprised when one of the audience told him that she had already clocked up 20,000 on her pedometer that day. She explained that she walks for 2 hours every day and this helps her control her diabetes and blood pressure, leaving her feeling fit and well. Dimitrios quickly invited her along to inspire one of his groups.
Health Improvement Nurse, David Preston, explained the benefits of an NHS health check to help people understand their risk of developing preventable diseases affecting the cardiovascular system. While we all have risk factors we can't change, such as our age, ethnicity and gender, he explained that we can change our behaviour and lifestyle before chronic conditions develop. A health check takes around half an hour and can be carried out in the community using a mobile computer tablet to collect a range of information - David provides these in community settings including libraries, supported housing, homeless hostels and even men's health clinics.
Finally, Beth Menger (pictured), who leads our Public Health Nutrition Team, talked about her work to improve community health in Kensington & Chelsea. She explained that in the modern world our genes haven't changed but we have designed physical activity out of our environment, spending much of our leisure time in front of screens and eating cheap and unhealthy food. One very practical way the team is improving the health of the whole community is through the Healthier Catering Commitment.
This works with take-away restaurants to make small, but high impact, changes to the food on offer - using healthier oil to fry, altering the temperature of cooking and even adapting salt shakers to have fewer holes so that customers get healthier food without even noticing.

Wrapping up the evening, our Chief Executive James Reilly, reflected that in the NHS of the future there will be far more staff working on preventing ill health than treating it, so the health improvement team will be seen as pioneers of an important new development in health care.
Our next Medicine for Members event will focus on Life after a Stroke and takes place on 21 May.

To book your place email: clchmembership@nhs.net or call free on 0800 169 6134.