Giving HIV the finger in Battersea
Published: 24th November 2017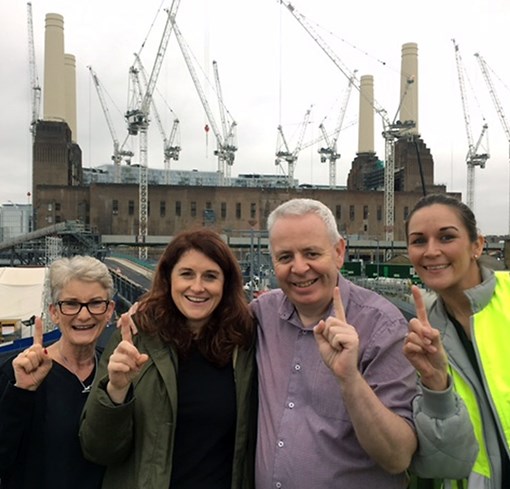 Giving HIV the finger - from Kensington Palace to Battersea Power Station
South West London sexual health teams joined forces this week to stress the importance of HIV testing for the most affected groups our community - men who have sex with men (MSM) and black African men and women. These groups make up seven out of 10 people in the UK living with HIV.
A co-ordinated week of activity, led by HIV Prevention England (HPV) was supported throughout London by hundreds of campaigning groups and charities, businesses, local authorities, NHS organisations and members of the public.
Prince Harry headlined the high profile launch event, 30 years after his mother, Princess Diana, was first credited for challenging the stigma against those afflicted by the virus. Her good work continues - Prince Harry was tested for HIV last year alongside pop superstar Rihanna in Barbados.
Closer to home, colleagues from the South West London sexual health service (covering Merton, Richmond and Wandsworth) took the message into the community at Battersea power station. Central London Community Heathcare's clinical team lead for sexual health services in Wandsworth, Charlotte Jackson, was joined by health workers from St George's NHS trust, Wandsworth Public Health and local charity, Spectra.
They spoke to around 1,000 workers on site about the importance of HIV testing. Spectra then spent four hours providing rapid HIV tests for the workforce. A simple finger-prick test can determine whether someone is HIV positive in less than 15 minutes.
"It's all about raising awareness of the importance of HIV testing, as well as increasing opportunities to test," said Charlotte. "Tests can be done in clinical settings, in primary care, through community-based rapid testing or via postal testing.
"The ultimate goal is to increase regular HIV testing in the most affected groups."
Prince Harry has thrown his weight behind HIV Testing Week, handing out self-testing kits at a pop-up clinic in London.
He said the UK had "turned a corner" over public stigma around the illness and encouraged the knowledge that people with HIV could live "healthy, happy lives".
He met Terence Higgins Trust volunteer Andrew Bates, who was diagnosed with HIV last year. Prince Harry heard that despite his initial fears about the impact of the disease, Mr Bates is under daily treatment that keeps his symptoms at bay and is now planning to run a marathon next year to raise awareness about the lives of those who are on HIV medication.
"I want to say that people who are HIV positive can do things like run a marathon - just because I have this diagnosis, it doesn't define me," said Mr Bates. He told HRH he wants "to be an advocate for HIV positive people and show the world that life doesn't end after getting an HIV diagnosis."
More information about HIV campaigning from the HPV website.