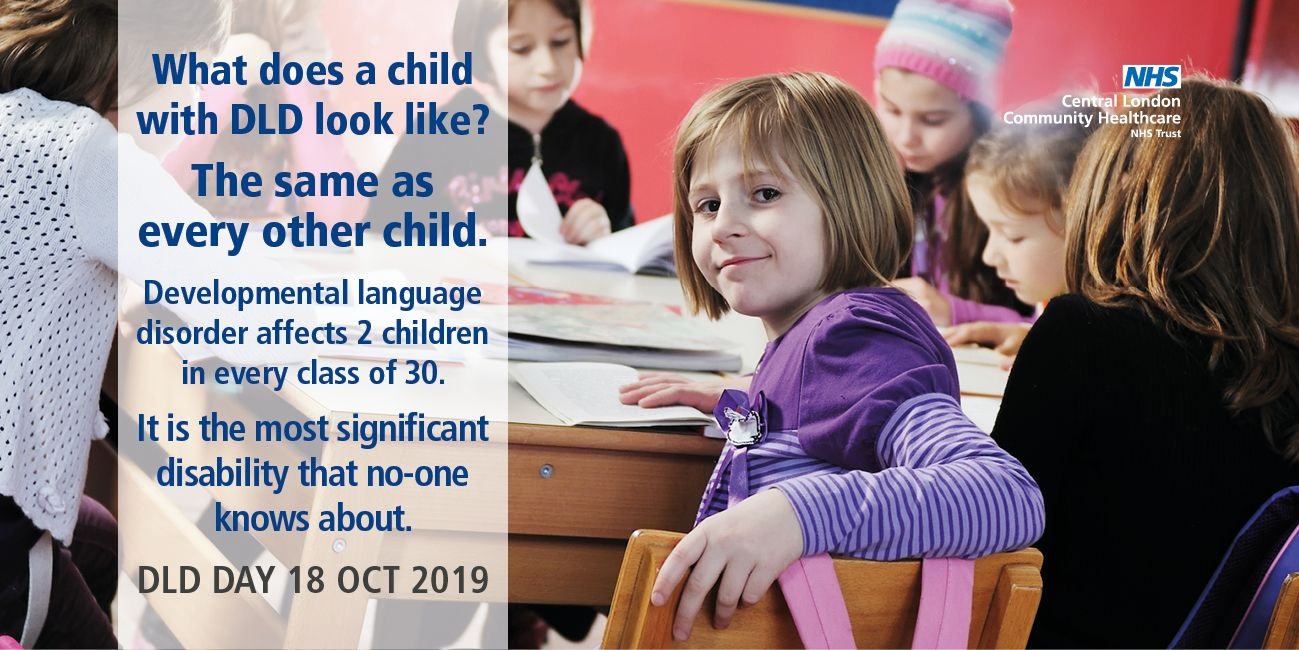 Published: 18th October 2019
What does a child with DLD look like? The same as every other child.
Developmental language disorder (DLD) affects two children in every class of 30 and is often quoted as the most significant disability that no-one knows about.
DLD causes difficulties with speaking, understanding and reading, with a high risk of dyslexia. Its complexity means that it can have a serious and long-term impact on a child's development.
Ahead of international DLD awareness day (18 October) a campaign was launched to help people understand more about this hidden, but common, condition.
Children with DLD have persisting problems using and understanding language – it affects literacy, learning, friendships and wellbeing. Support from professionals such as speech and language therapists and teachers can make a world of difference.
Nancy is the parent of a 14 year-old with DLD:
"My son wasn't really talking.
"He had maybe 15 words total and many of those were in a language he made up.
"Nothing feels like enough when you feel like a parental failure (which I wasn't by the way, but good luck trying to tell me that 12 years ago)."
According to the University of Manchester Language Study:
40% of those with DLD say that by age 16 they had difficulties interacting with their peers.

Half experienced bullying during their childhood.
Other studies found teenagers with DLD were more than twice as likely to report symptoms of depression compared to their typically developing peers.
Without diagnosis and specialist support, the impacts of DLD can last into adulthood by increasing the risk of unemployment and reducing the opportunity to be independent.
Dorothy Bishop, Professor of Developmental Neuropsychology, University of Oxford:
"When a child has difficulty with communication, it has a significant and lasting impact on every aspect of their development.
This is why it is so important we raise awareness of DLD to remove the barriers preventing those affected from receiving the help they need.
"Our hope is that we will make it easier for those affected to be diagnosed and receive the specialist support that can make such a difference."
Even though we've known about this problem for nearly 200 years, research into the condition found poor awareness of DLD, relative to its frequency and severity.
Most commonly, those affected are mistaken as being inattentive, having more general learning difficulties or poor behaviour.
By increasing awareness and recognition of DLD, we share the same goals as the international organisation (RADLD) striving to ensure any child affected is able to access specialist speech and language therapy and the support they need.
Families, teachers, speech and language therapists and other healthcare professionals are joining in to help people share – and learn – more about DLD via this year's campaign theme: 'DLD – You and Me'

More information available online
RADLD (raising awareness of developmental language disorder)
ICAN (children's communication charity)
University of Manchester Language Study