Community Nurse - Sarah's Story
Read more about this page below
Published: 28th July 2021
What are your main duties as community nurse?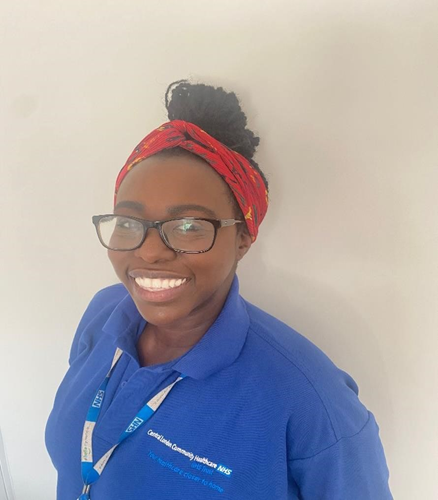 The main responsibilities I have as a community nurse is to provide skilled nursing care and advice to people who are predominantly housebound. As a member of the community nursing team I provide:
Nursing care and advice for acutely unwell patients

Care and advice for post op care

End of Life Care

Care and support for people to manage their long term conditions

Wound care management and advice

Advice and management of continence problems

Advice about healthy living

Assessment and provision for pressure relief equipment and other aids

Health promotion/education

I Work closely with colleagues from primary and secondary care, local authority and voluntary organisations
What do you enjoy most about being a community nurse?
What I really like about being a community nurse is gaining experience in various aspects of nursing care. My day can be varied and I am developing my knowledge of other specialities such as diabetes management, tissue viability management and palliative care. I also enjoy getting to know my patients and their families on a personal level and thoroughly enjoy the autonomy of providing nursing care in people's homes outside, even when it's raining!
What are the biggest challenges of being a community nurse?
Socioeconomic issues are an important factor that I need to be aware of as a community nurse, especially in supporting health inequalities. Not all patients comply with care, due to a number of reasons. Whilst this can reduce the effectiveness of nursing care, I work with my wider team colleagues to help improve patient compliance. As a lone worker you are not always aware of the situation / environment that you may find yourself in, however, whilst this can be challenging at times, there are systems in place to overcome these challenges, such as the Trust's lone worker personal security devices, which I can also use when not in work. I am also fortunate to have the support of my team who also help me overcome any challenges that I am faced with.
What has been your career path so far to lead you to becoming a community nurse?
I was an inflight beauty therapist for a British Airline, which was great fun, especially when you're young! I have worked in the private sector as an aesthetic practitioner liaising with doctors and nurses, providing aesthetic / dermatology care to clients. I also worked in a private hospital as a healthcare assistant whilst training to be a nurse and once qualified I worked at an NHS hospital at a gastroenterology ward before joining CLCH.
I wanted to become a community nurse due to the flexibility of the role and the career opportunities that are available.
How has your role as community nurse changed since the pandemic?
I have noticed that there has been more emphasis on care in the community from the hospital. End of life care has also become an important part of my day, as more patients where choosing to spend their remaining days at home. I have also worked closer with primary care to help support my colleagues in providing care closer to home for an increasing number of patients.
What are the main benefits of working as a community nurse with CLCH?
As a large community Trust, I have excellent access to professional development and learning, through the CLCH Academy. Due to the varied nursing roles that exist in the community, I also have the opportunity to develop my career in other areas of nursing such as, specialist nursing and nursing leadership.
Do you enjoy the work/life balance that community nursing provides?
Whilst patient care takes priority, I am able to benefit from flexibility in my team that allows me to achieve a good level of work/life balance. This is important to me as it enables me to ensure that I spend quality time with my family.
What are your top tips for anyone wanting to be a community nurse?
Don't be afraid to make the jump into community nursing and ignore the myths that you need to gain acute nursing experience before seeking a career in community nursing. Also, with the autonomy that comes with being a community nurse, communication with my multidisciplinary colleagues is essential to ensure that the best quality nursing care is provided.