CLCH crowned Student Community Placement winner second year in a row!
Published: 12th November 2021
Last week (4 November) CLCH's tissue viability nursing team in Merton won Student Community Placement of the Year at the Student Nursing Times Awards.
The Awards honour the achievements of student nurses, education providers and mentors, and many CLCH colleagues were shortlisted:
CLCH Academy shortlisted for the Nurse Education Provider of the Year (post-registration) award
Mercy Kazondo shortlisted for the Educator of the Year award
Merton health visiting team shortlisted for the Student Community Placement award. This amazing team were also shortlisted for a Nursing Times award (Children's Services) too! You can read more about their achievements in this article.
For the second year in a row, CLCH triumphed in the Student Community Placement of the Year category.
In 2020, our Westminster Homeless Health team received the commendation for their commitment to providing a positive learning environment where students could practice their skills and develop their understanding of the nursing profession.
This year, our Merton Tissue Viability team have been honoured for providing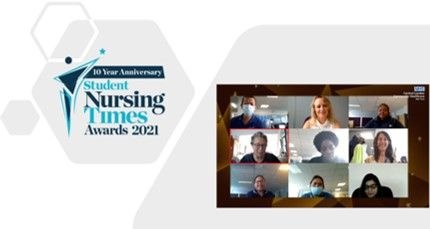 an exceptional learning environment for student nurses. The team have been on a phenomenal journey this year and also received two CLCH Staff Awards this year.
Coincidentally, the CLCH Staff Awards also took place on Thursday 4 November. In a first, the Merton Tissue Viability team won two award categories - the Preventing Harm award and Value Added Care award - for their dedication and innovation which has resulted in patients seeing their wounds heal faster, with less pain and side effects.
Fleur Beeson (Clinical Business Unit Manager) said: "I am absolutely thrilled that our tissue viability team have been recognised for the excellent care they provide for patients, and the fantastic learning environment that they provide for students.
"For these awards to come after a year of so many challenges is a real testament to the team's commitment and passion for the highest quality service possible."
Editor of Nursing Times, Steve Ford, said: "Congratulations to all our winners at the Student Nursing Times Awards 2021. The Awards recognise a group of outstanding students on their journey to entering the nursing profession, as well as all those who support them along the way, including lecturers, universities and healthcare providers.
"Given the ongoing difficulties facing the education sector due to the pandemic, I was really impressed by the strength of entries that we received for the awards this year. Many featured learning innovations and outstanding students that reflect the challenges created by COVID-19, and that saw usual learning processes disrupted and nearly 30,000 students doing paid placements to help out on the front line."