Celebrating amazing nursing teams across CLCH!
Today is International Nurses' Day 2021!
Nurses' Day is observed around the world each year on May 12th (the anniversary of the birth of Florence Nightingale, the founder of modern nursing) in recognition of the pivotal role nurses play in healthcare and wider society.
At Central London Community Healthcare NHS Trust (CLCH), our nurses are incredibly dedicated to supporting patients of all ages and delivering high-quality care in the community. Despite the unprecedented challenges of the COVID-19 pandemic, our nurses have worked together over the past year to deliver care in new and innovative ways.

Adapting to change
When the pandemic started last year, some nurses in our walk-in centres were redeployed to support other essential services across CLCH. By working outside of their usual roles, these nurses showed tremendous commitment to making a positive difference in the face of such uncertainty.
Some of our nurses were instrumental to delivering COVID-19 vaccines to housebound patients across North Central London. For clinically vulnerable patients, the vaccine meant a light at the end of the tunnel and made a huge difference in allowing them to see loved ones again.
"Some housebound people have not been able to see anybody for a year which has been heart-breaking. They are so happy that we are helping them start living their lives again and it is really fulfilling to be able to help them" - Tina, Senior Advanced Nurse Practitioner, North Central Walk-in Centres.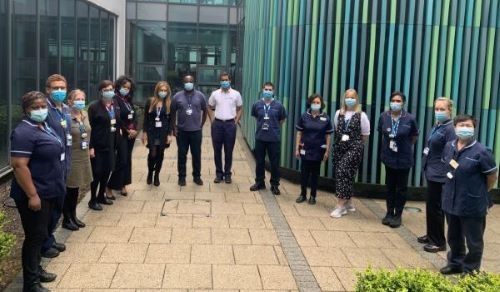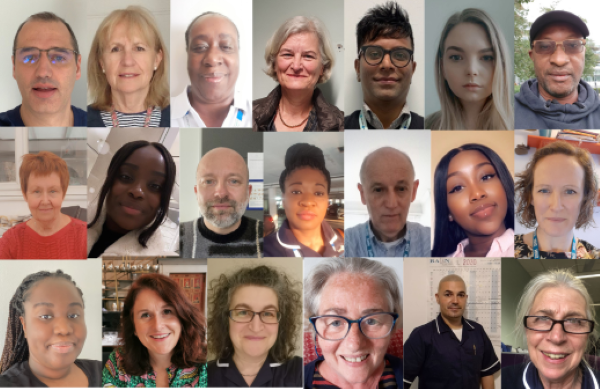 Images, eft to right: North Central Walk in Centres team; South West Immunisation team
In West London, our nursing teams working in the Alexandra and Athlone in-patient units rose to the challenge of taking on a surge in patients with complex health needs.
During the pandemic, often nurses would rally together from both units to staff a surge bed unit. While this was happening, the rest of the team would step in and pick up additional shifts and work flexibly to meet new changes.
"As difficult as this past year was, they have really remained such a team, motivating each other, being there for each other and being there for the patients. 'We'll get through this together" was very often what you heard. And they did" – Danielle, Matron at the Alexandra and Athlone in-patient units.

Working in partnership to manage the COVID-19 surge
During the peak of the pandemic, our staff collaborated with many health and care partners. In Merton and Wandsworth, our community specialist nurses in diabetes and respiratory worked in partnership with St George's Hospital to develop a pathway that enabled patients with complex needs to return home faster after their time in hospital.
At a time when the infection rates were rising rapidly and there were shortages of hospital beds, this joint programme allowed community specialist nurses and hospital nurses to work hand-in-hand with consultants and GPs to support patients in and out of hospital.
"I can't big up the teams enough for what they did, they worked so hard, they did everything that was asked of them and more. Some of the feedback that we got from patients was lovely. They were very grateful" – Sue, Cardio-Respiratory Clinical Operations Lead.
Across Hertfordshire (Herts), CLCH nursing teams have also been working very closely in partnership. Over the past year, our Herts Red team, who look after patients with COVID-19, have been hard at work supporting outbreaks in care homes.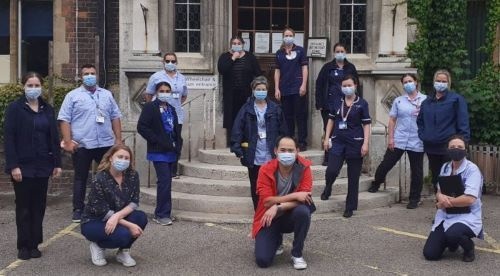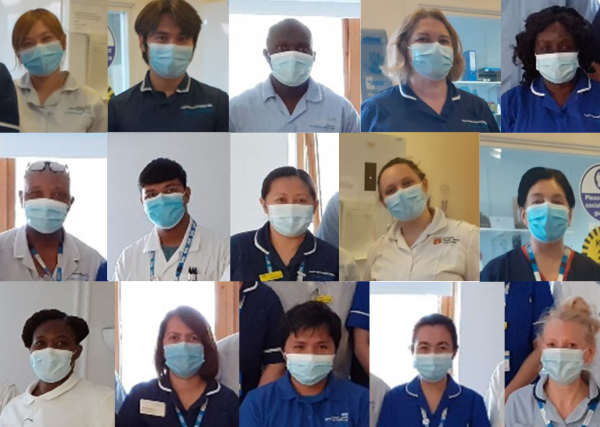 Images, left to right: Herts Red Team; North West Surge Beds team
Throughout the pandemic, the nurses took the time to get to know and support managers of the care homes. The work of our Hertfordshire Red teams has been so successful that they are now being made a permanent care home team to look after all Hertfordshire care homes, even beyond the pandemic.
"The team are a pleasure to manage. They are so passionate about patient care, so we have been able to improve care to many patients" - Laura, Locality Manager.
Delivering care innovatively
And across the Trust, our children's nurses were hard at work ensuring children were cared for and kept safe. Brent Special School nursing team did home visits to their students and enjoyed meeting the families. They also continued to cover their large safeguarding caseload by attending meetings and clinics virtually, as well as doing training for teachers virtually too.
When the pandemic hit, Colville Children's nursing team implemented virtual visits for most patients, apart from vulnerable patients, who were still able to come to the health centre for a socially distanced visit.
Wandsworth School Nurses introduced socially distanced walks with some of the older young people who needed to be seen face-to-face. The nurses would meet them close to school for a chat and a walk around the block or a nearby park.
"I am extremely proud of my colleagues and their tenacity because it has been hard work. I am in awe of the young people and how they have navigated this lockdown so well. I am struck by the teachers, safeguarding leads and social workers who have been brilliant. Everyone has been phenomenal because at the heart of it there is a child and family that need our support" – Rachel, Specialist practitioner, Youth offending team.
Thank you to our CLCH nurses – we are very proud of you all!
Andrew Ridley, Chief Executive: "As we celebrate International Nurses' Day this week, I wanted to take this opportunity to thank you all for the incredible care that you have provided to our patients over the last year. The stories being shared throughout the week and at the conference on 12 May highlight some of the many examples of how you have adapted and changed the way that you work to continue to keep patients safe. I hope that each of you also take the opportunity this week to pause and reflect on everything that you have achieved – Thank you".

Angela Greatley, Trust Chair: "This year has seen staff working in different ways and with huge challenges every single day. As a Mental Health Minder, I know how important it is to support each other and to make time to listen. For many people, you will have been their only visitor or contact and your visit, whether in person or virtually, will have made a difference. Your resilience, dedication and compassion has been outstanding and as we celebrate International Nurses' Day, I would like to thank you all for everything that you have done and continue to do to support our patients and each other".