Introduction
The majority of the services we provide are delivered in the community. Often, this means a nurse, doctor or healthcare professional will make a "home visit" to your home or nursing home to provide you with care and treatment.
Before your home visit appointment
Before your home visit appointment, a member of our staff may phone to speak to you about the home visit appointment, and to answer any questions you may have.
If you were previously in the clinically extremely vulnerable group, please make sure you tell us.
During your home visit, you can expect the nurse, doctor or healthcare professional to:
comply with the infection control policies that CLCH currently has in place. This may mean that staff wear face masks depending on the situation and the levels of Covid in the community at the time of your visit. Masks can muffle the words that people use so if staff are wearing one and you do not understand what is being said to you, please make sure you tell the healthcare professional caring for you. The NHS team can make changes to ensure you can better hear and understand what is being said to you.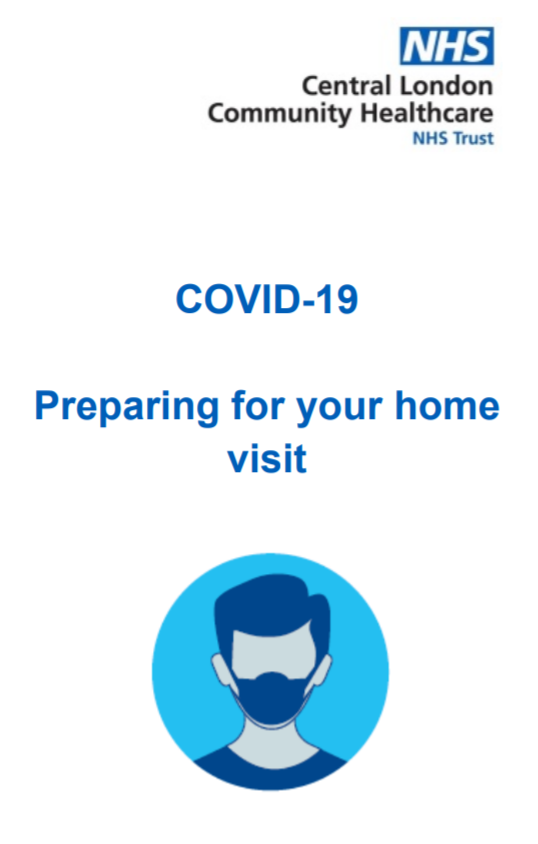 Our 'Preparing for your home visit' leaflet
As a home visit patient, you will have received our 'preparing for your home visit' leaflet. The leaflet is reproduced below - and you can click on the image to download the leaflet.
1. What is COVID-19?
Coronavirus (COVID-19) is caused by a type of virus called severe acute respiratory syndrome coronavirus 2 (SARS-CoV-2). As a group of viruses, coronaviruses are common across the world. Typical symptoms of coronavirus include:
a fever
shortness of breath
a cough
a loss of or change in your normal sense of smell or taste
You can find more information at the NHS.uk coronavirus webpage
2. Hand hygiene
Our staff will clean their hands before and after contact with you. We would encourage you to either wash your hands with soap and water or use an alcohol hand rub before and after our staff visit.
3. How does COVID-19 affect your home visit?
We're doing things a bit differently during this pandemic. This information sets out the changes we've made. Please take the time to read this information ahead of our visit to you, so you're aware of what to expect.
4. If you are unwell or have symptoms of COVID-19
If you feel unwell and think it might be COVID-19 related, please inform our staff by telephone before they visit your home.

If you feel unwell and need advice, contact NHS 111 by ringing freephone 111 or visiting the NHS 111 website 111.nhs.uk

You can use the NHS 111 online tool
You can check your symptoms online via NHS 111 Covid 19 webpage.

If we suspect you have COVID-19 before or during our visit then we may need to rearrange or make alternative arrangements for your care.
5. Face coverings and Personal Protective Equipment
Our staff will wear Personal Protective Equipment (PPE) based on the level of contact that they have with you. This may include a surgical mask; they may also wear gloves, aprons and possibly a face visor.
6. Home environment
We appreciate you will have your personal items around you within your home. To reduce any risk to you or our staff, we ask you put away any unnecessary items before our staff visit.
Many of our staff are pleased to see your pets. However, we would ask you to put them in a separate space during our visit.
Please ask any household members not involved with your care to leave the room before our staff arrive; they can re-enter when we leave your home.
7. Waste
waste can be discarded into the normal household waste unless a clinical waste collection has been organised by staff.

Some of our staff may take the clinical waste with them as they have a safe method to do this.
By working together we can make it safer for you and our staff
Covid-19 checklist
Our staff may ask you questions using the following Covid-19 checklist.
CLCH Covid checklist

Today or in the last 14 days…

​

Do you have or have you had a fever of or more than 37.8 degrees C?

Yes

No

​

Do you have or have you had any of the following symptoms: cough, sore throat, loss of smell or taste, aches and pains, flu-like symptoms, diarrhoea?

Yes

No

​

Have you tested positive for Covid-19?

Yes

No

​

Have you been contacted by the NHS test and trace service and asked to self-isolate?

Yes

No

​

Has anyone in your household or your close contacts had (or does anyone currently have): fever, cough, sore throat, loss of smell or taste, aches and pains, flu-like symptoms, diarrhoea?

Yes

No

​

Has anyone in your household or your close contacts tested positive for Covid-19?

Yes

No

​

Has anyone in your household or your close contacts been contacted by the NHS test and trace service and asked to self-isolate?

Yes

No

​

Have you completed your self-isolation period?

Yes

No