This page last updated on Monday 17 August 2020
This page contains important information for patients with an upcoming NHS appointment.
Patients with an upcoming NHS appointment will have received this letter which you can download, and the information in the letter is reproduced below.

Patients with an appointment for planned podiatry procedure can download this podiatry letter - the same letter was also sent to podiatry patients by post.

You may also find it help to watch our 'what to expect video' explaining what you can expect when you come to a CLCH building or hospital site for an appointment.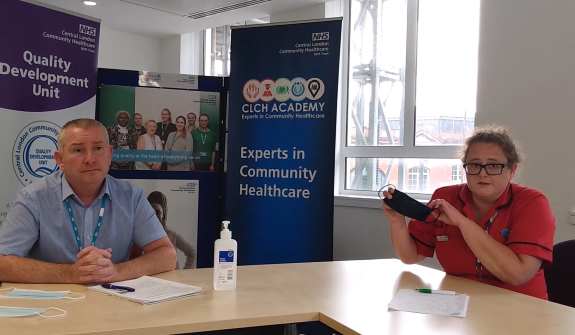 It is important that you read the following information in full and if you are unsure of anything or have any questions, please ring the phone number on your appointment letter.
Introduction
The following information is provided to you because you are booked in for an appointment.
We know that this is a worrying time and we hope that the information in this leaflet will help to reassure you that we have put in place measures to keep you, and the NHS staff who will be looking after you, safe while you receive your treatment or attend for your consultation.
The recent coronavirus (Covid-19) pandemic has meant many NHS services were paused. As we re-open these services, some changes need to be made to keep all our patients and staff safe. This includes the way we provide care to our patients.

The information below explains what you need to do before your appointment and what you can expect when you attend.
Before coming for any appointment
If you are asked to attend an appointment, please follow these instructions for every visit:
Complete the Covid-19 checklist before every single appointment. (This must be done on the same day of your appointment.)

Ensure you have followed the self-isolation guidance

Wear a face covering, in line with government guidance on public spaces

Avoid public transport where possible, and wear a face covering while travelling, whether you use a family car or a taxi

Use hand sanitiser or wash your hands when you arrive at the NHS building where your appointment is being held
CLCH Covid-19 checklist
Complete the Covid-19 checklist every time you have an appointment. It should be completed before you attend.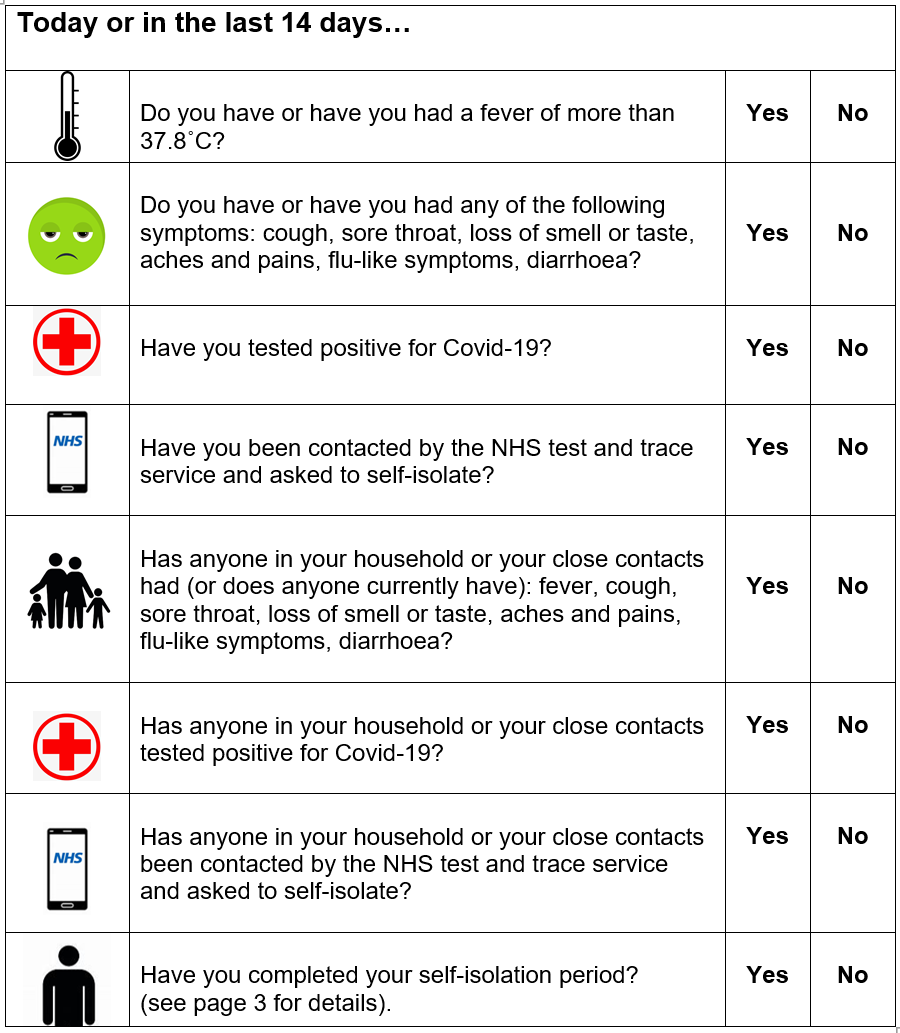 If you answer YES to ANY of the questions then please stay at home and rearrange the appointment using the contact details in your appointment letter.
If you answer NO to ALL the questions then please attend your appointment as planned.
If you are shielding, make sure you tell us. Please phone the number listed on your appointment letter.
Notes on self-isolation
If you are unsure how long you need to self-isolate for, please ring the number on your appointment letter to check, as self-isolating for the correct length of time is important.
What does self-isolating mean?
Self-isolating means that you need to stay at home and that you do not have contact with anyone outside your home during the full period of your self-isolation. Where possible, this means that all members of your household should stay at home during this time as well.
If you live with others, there are some practical steps to take. These are:
Staying physically apart as much as possible. Sleep in separate rooms and use different bathrooms if you can.

Minimising the amount of time you spend in shared spaces such as the kitchen or shared living areas

Trying to stay at least two metres (three steps) apart.

Regularly cleaning, with disinfectant, any surfaces you use a lot, such as kitchen counters.

Wash your hands regularly, for 20 seconds each time.

Make sure to sneeze or cough into tissues, your elbow, or your sleeve, and throw away the tissues straight after using them.

Don't share food.

Don't use the same towels or crockery and make sure anything has been washed thoroughly before they are used by someone else.
The day of your appointment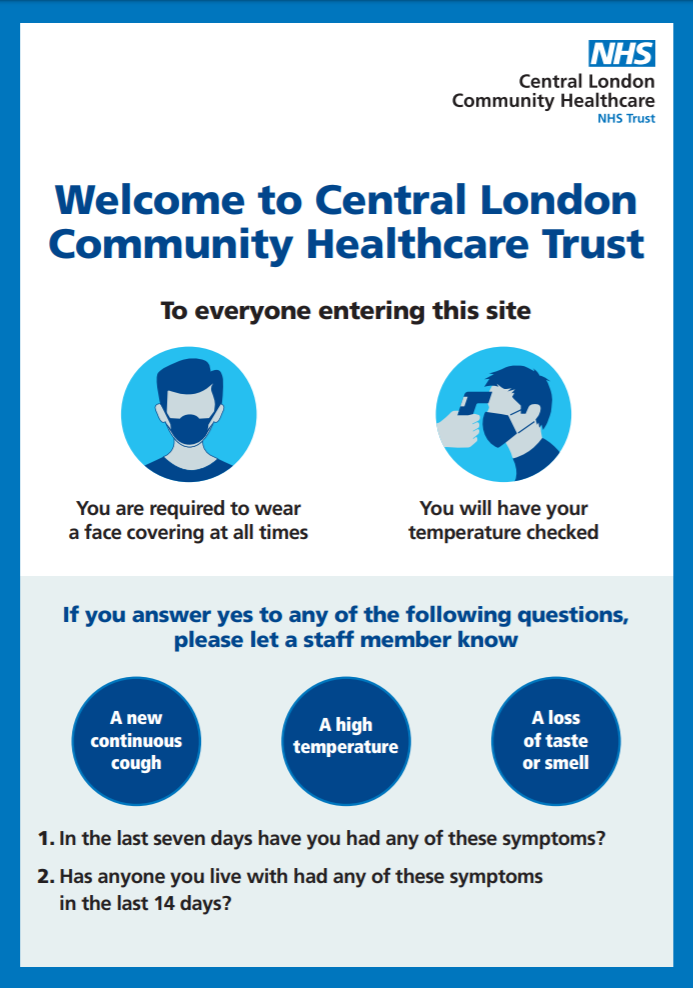 You may be asked to use a particular car park and building entrance, so please check your appointment letter for details on where to go when you arrive.

Before you enter the building, make sure you are wearing your face covering. Please comply with this government requirement.

Make sure you use the hand sanitiser as you enter the premises or wash your hands.

Make your way to the reception area or clinic if you know where you are going. Please do not go into any other clinical areas other than those you need to visit.

Only in special cases will carers be allowed to remain with you. If you think you may need a carer with you, please discuss this before your visit by phoning the number listed on your appointment letter.

If you have arranged for a friend, carer or family member to collect you after your appointment, please arrange to meet them at the entrance of the building. Please comply with social distancing while you are waiting to be collected.
Useful links
You may find it helpful to consult the following government advice on how to make and wear a cloth face covering
Frequently asked questions
Is it safe to attend an appointment while I am shielding?
If you are currently shielding, you may still attend your appointment, but please follow the instructions in this leaflet carefully. Please let the department you are visiting know that you are shielding
Are visitors allowed with me?
If you think you may need a relative or carer to accompany you to your appointment, please discuss this before your visit by phoning the contact details listed in your appointment letter. ​If you need someone to take you to your appointment, we ask that they wait in the car or outside the building.
Will the NHS service that I am visiting be busy?
When you attend your appointment, while there may be a few patients waiting in the waiting areas, it should not be busy.

To support this, we are asking people to only come at the time of their appointment, and if you happen to arrive early, please wait outside the building so that patient waiting areas remain quiet.
Will the NHS service that I am visiting be cleaned regularly?
All NHS premises, including the areas used for patient appointments, are cleaned regularly.
Do I need to socially distance when I attend my appointment?
Yes - please follow social distancing rules when you attend your appointment.
When will staff wear masks?
Staff will wear masks at all times, in line with national guidance on the use of masks in clinical areas or when providing treatment.
Masks can muffle the words that people use so if you do not understand anything being said to you, make sure you tell the NHS staff caring for you. The NHS team can make changes to ensure you can better hear and understand what is being said to you.
How do I make a comment about my visit?
We aim to provide the best possible service and staff will be happy to answer any of the questions you may have.
If you have any suggestions or comments about your visit, please either speak to a member of staff or contact the patient advice and liaison service (PALS). You can contact PALS by phone 0800 368 0412 or by email clchpals@nhs.net