How to use these pages to support your loved one during COVID-19
On these pages, we provide guidance and advice that our patients' carers, relatives and friends may find useful. As we provide services to patients in many different ways, please familiarise yourself with the information that is relevant to your loved one's appointments. For example,
if your loved one has both home visit appointments and video appointments using BlueJeans, please read the guidance for both of these different types of appointments.
if your loved one has an appointment to have treatment, a procedure or surgery at our clinics, health centres or hospitals, please read the guidance for patients, our policy for visitors. Make sure you know how to support your loved one both before, during and after their appointment.
if you wish to visit your loved one during their overnight hospital stay, please read the detailed Covid-19 visitors policy for our wards in our hospital sites set out below.
If you have a topic that you would like to see addressed on this page, please send us an email or use the details listed in our Contact Us page.
Advice on coronavirus in different languages
Doctors of the World, an independent humanitarian movement working in the UK and abroad, have produced translations on coronavirus advice for patients in 60 languages. The translations were produced in partnership with the British Red Cross, and can be accessed via the Doctors of the World website.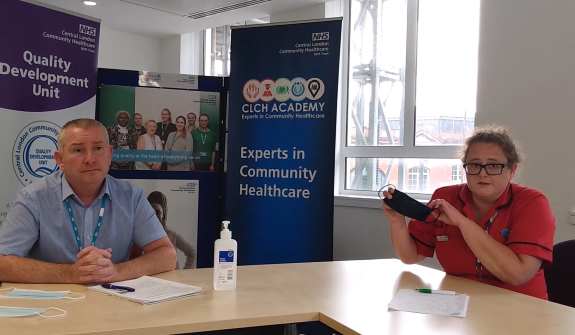 Our policy on carers and relatives who accompany patients to day appointments
A number of patients attend appointments that do not require the patient to stay overnight and can include treatments or procedures such as minory surgery.

In our short video explaining what you can expect when you come to a CLCH building or hospital site for an appointment, we explain our policy on carers, relatives and visitors who accompany patients to appointments at a CLCH site or building.
We recognise that it's important for our patients to have a carer or relative with them, or to have visitors. Therefore, we have made a decision that we will allow visitors into our NHS sites.

We would ask however that patients have a nominated visitor, and only one relative or carer will be allowed in at a time. Visitors are asked to wear a face covering, they will have their temperature checked and they will be asked questions from the Covid-19 checklist.
Our Covid-19 visitors policy for our wards in our hospital sites
For the safety of our patients, visitors and staff – and to limit the spread of Covid-19 – we have to restrict the number of people allowed onto our hospital wards.

We know how important it is for patients to see their loved ones while they are in hospital, so have put in place the following guidance to support people to keep in contact while keeping them as safe as possible.
Please note that the following policy applies to our wards in hospital sites.
The nurse admitting the patient will ensure that nominated next of kin is contacted as part of patient admission to the ward and is informed of the visiting guidelines.​
Children are not able to visit the wards.
Visitors should complete a lateral flow test prior to visiting.
Visitors are advised that if they are or become unwell, they will not be able to visit.
Visitors are asked to minimise the number of personal belongings that they bring with them, such as bags, handbags, electronic devices.
Only one visitor per patient permitted between 2-4pm and 6-7pm. Visits are by appointment only to limit the number of people on the ward at the same time.
The ward clerk will keep the appointment book for visitors.
Visitors must report to the ward clerk on arrival, who will then inform the nurse in charge.
The nurse in charge will inform visitors of the current visiting guidelines and infection control precautions to follow during the visit.
The duration of the visit is two hours maximum.
Visitors are able to bring one person with them to provide support, however they will need to remain outside the ward environment unless it is possible to maintain social distancing throughout the visit.
All visitors must wear a surgical mask at all times during the visit. The ward will provide a surgical mask for the visitor if required. Where a patient is suspected or known to have Covid-19, they should also wear a face mask if they are able to.
All visitors must wash their hands when entering and leaving ward.
Aprons must be worn at all times and staff will show visitors how to put on and remove personal protective equipment (PPE).
All visitors will be escorted to the patient by a member of staff.
Our staff will reassure visitors that self-isolation is not required following the visit as they have been protected from the risk of transmission by using PPE and performing hand hygiene.
People who are in attendance to support the needs of the patient, for example a familiar carer, supporter orpersonal assistant are not counted as an additional visitor.
Additionally, the wards will continue to use technology for families who are not able to visit in person.